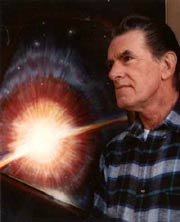 Other worlds, cosmic spacespaces, celestial star systems and unknown galaxies...these are the subjects of paintings by Charles H. Haymes. His "Astro Art" paintings combine science fiction and fantasy to stir your imagination about the mysteries of our universe and galaxies beyond.
Born in 1928 in Buffalo, NY, Haymes began his art career in high school. He has worked as an art instructor, illustrator and graphic artist throughout his career. In 1951, he went to work for Bell Aerospace as an artist-illustrator, ultimately rising to the position of Graphics Manager.
He has received numerous awards in juried exhibitions throughout the U.S. His paintings are in several private and corporate collections and have hung in several prestigious museums. Seven of his paintings are on permanent loan to the National Aeronautics and Space Administration (NASA.)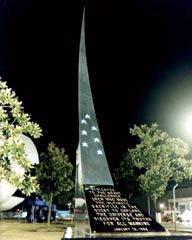 In addition, he designed a memorial sculpture dedicated to the seven astronauts who perished in the Challenger Shuttle. This memorial is installed on the grounds of the NASA facility in New Orleans, Louisiana.
He feels that "art must be more than a realistic representation of the subject. With today's high tech photographic equipment and processes, coupled with rapidly advancing computer technology, almost anything you can imagine can be illustrated by mechanical instruments. Today's 'Astro Art' is currently little known, but eagerly sought after by knowledgeable collectors and investors as the art of tomorrow."